Positioning Stages and Slides
---
High Precision Ball and Cross Roller Slides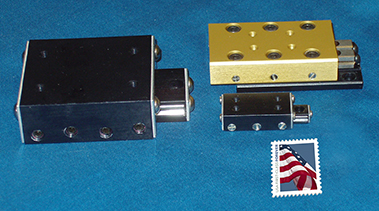 Our Gold Motion Series Crossed Roller Slide Tables offer low cost and light weight aluminum body construction to support heavy loads with low friction and precision linear motion. Select from over 45 standard sizes for use in a wide range of applications:
Precision Instruments
Office and Communications Equipment
Surface Grinders
Tool Grinders
Assembly Fixtures
400 Series Stainless Steel Models
Available for applications where particulate contamination caused by corrosion must be reduced. Nordex offers crossed roller slide tables equipped with resistant, stainless steel, crossed roller linear bearings.