Lead Screws and Nuts
---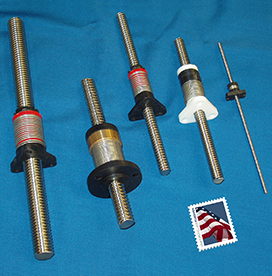 To meet the need for economical solutions in the field of linear motion, Nordex offers two standardized lines of lead screws and nuts in addition to the made-to-order lead screw and nut assemblies built to meet individual customer specifications and tolerances.
Nordex Anti-Backlash Lead Screw Nuts and Lead Screws
Rolled Acme stainless steel lead screws come in commercial and precision quality.
Depending on the application, acme lead screws are available in lead accuracies from .003 in/ft with straightness of .01 in/ft to .0001 in/in with positional repeatability of .00005 inches.
Commercial Quality Screws • 6M
Precision Quality Screws • 12M
Commerical Quality Lead Screw Nut • 4M
Commerical Quality Anti-Backlash Lead Screw Nut • 5M
Precision Quality Low Drag Torque, Anti-Backlash Nuts • 7M-11M
Anti-backlash lead screw nuts and low drag torque anti-backlash nuts are available from Nordex, Inc. in precision and commercial quality.
Commercial quality, anti-backlash, lead screw nuts have a minimum preload of .19 lb to a maximum preload of 11.1lb with internal threads of 3/16-20 to 5/8-10, and are manufactured in Turcite® X Engineered Thermoplastic material. Over 25 different configurations are offered with other sizes available upon request. Please, contact Nordex for additional information.
Precision quality, low drag torque, anti-backlash nuts are manufactured in polyacetal, engineered plastic including an integrally molded flange. The drag torque in the mini series nuts is .5 oz-in while the light, medium and heavy duty nuts have a drag torque of .5-2 oz-in to 3-7 oz-in, 1-3 oz-in and 2-6 oz-in to 3-7 oz-in respectively, with load capacities from 5 lb to 350 lb.
Rolled Stainless Steel Lead Screws are available in commercial and high precision quality with lead accuracy from .003 in/ft with straightness of .01 in/ft to .0001 in/in with positional repeatability of .00005 inches.
In addition to standard lengths of 6, 12, 24, 36 and 48 inches, lead screws may be ordered up to 12 feet long (up to 8 feet with Teflon® coating available in precision quality).
Competing with ball screws and ground lead screws, costs for these units are dramatically lower while still providing high accuracy, long life, quiet operation and very low drag torque.
 Anti-Backlash Nuts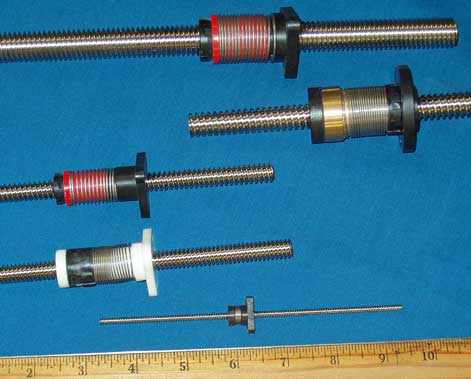 Anti-Backlash Nuts from Nordex, Inc. are self wear compensating, low frictional drag nuts with high axial stiffness & unsurpassed positional repeatability. 1/4 to 3/4 inch Nominal Screw Diameter Precision Quality Anti-Backlash Nuts.
MAH-A3 Series
For light to medium loads.
1/4 to 5/8 inch nominal screw diameters
Drag Torque 1 to 7 oz-in
Loads 5 to 35 lb
MAH-A4 Series
For medium loads.
3/8 inch nominal screw diameter
Drag torque 1 to 3 oz-in
Loads 20 lb
MAH-A5 Series
For heavy loads.
1/2 to 3/4 inch nominal screw diameters
Drag Torque 2 to 7 oz-in
Loads 150 to 350 lb
MAH-A6 & MAH-A7 Series
Mini Series 1/8 & 3/16 inch
Nominal screw size
Drag Torque .5 oz-in
MAH-A6 Series load is 5 lb