Sprockets and Chain
---
A sprocket is a wheel with teeth upon which a flexible device such as a chain or belt rides. The rotation of the sprocket advances the chain or belt. Picture a  bicycle chain assembly or a bulldozer track and you have the concept.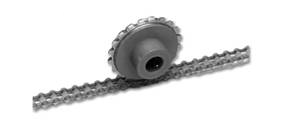 Nordex manufactures miniature 0.1475″ pitch sprockets with a pitch diameter less than 1/2 inch (0.431) ranging up to 4 inches (3.992) available in stainless steel, anodized aluminum, nylon, or phenolic material. These are designed to be paired with miniature stainless steel chain weighing only 0.03 pounds per foot, supplied with  connectors or customized with riveted endless loops.
Nordex also offers the more muscular 0.1875″ pitch and #25 chain in carbon steel or stainless steel that can handle work loads up to 70.4 pounds with an average tensile strength of 506 pounds. Nickel plated #25 chain is also available. Hub or hubless type sprockets for these chains are available in stock or by special order, depending on the pitch, number of teeth, and specialized drilling or reboring. They are offered in carbon steel, glass reinforced Nylon, and aluminum.
Flexible timing chain is manufactured with a polyurethane-coated Kevlar® or Stainless Steel core in 0.1475″ pitch (.230″ chain width) or 0.15708″ pitch (.220″ chain width) with a tensile strength of 100 pounds. Coordinating pin hub or hubless sprockets are offered in 303 Stainless Steel or anodized aluminum with  stock bore diameters of 1/8 to 3/8 inches. Sprocket features that can be customized include lightening holes, pitch lengths, slotted hubs, and number of teeth.  Contact a Nordex representative for unlisted configurations.