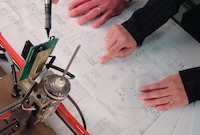 Engineering & Quality Manufacturing by Nordex, Inc.
It is vitally important during the design stage for Quality, Manufacturing and Engineering teams to work together. With today's technology long distance meetings are online with screen sharing. New ideas and concepts are brought to life along with Manufacturing Expertise.
"Whatever the mind can conceive and believe the mind can achieve".
~Napoleon Hill