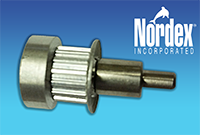 This flanged pulley, hub and shaft assembly is used in Office equipment, Robotics, Packaging Industry and Diagnostic Equipment.
Power is transmitted to another axis at required speed ratios according to the application.
Other style options are gear, sprocket, spline or any combination. Bearings can also be incorporated.
The Assembly can be exposed or enclosed depending on material of choice.