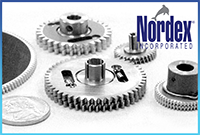 Anti-backlash gears are suited for precision applications where a high degree of accuracy is required.
They are also used when the drive axis must reverse direction while maintaining a high degree of repeatability.
These are available in compact and miniature compact designs. Standard and Custom styles available in both our Inch and Metric series.