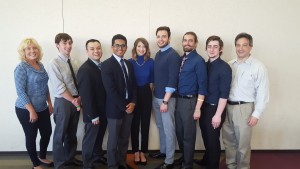 Charles Paulsen, associate director of the Mechanical and Manufacturing Technologies for Energy and Sustainability (MET2) program at the Connecticut College of Technology walked into the Nordex lobby in Brookfield, CT, on a mission. He was visiting engineering companies in the area hoping to find people interested in supporting a student project known as Prosthetics for Kids.
"The prosthetic arm created by the students was for children who were either born without an arm, lost their arm in an accident or in an act of terror in other countries," said Lisa Barrett, sales manager at Nordex, Inc.
Nordex was excited to participate in the project because it mirrored the company's very own engineering philosophy:
"We exist to assist fellow engineers design and bring to life new and innovative ideas," said Barrett. "Our goal is to make a difference in the world by offering innovative ideas and fostering the philosophy that anything is possible."
Nordex contributed parts for the Prosthetics for Kids project. Recently Senior Engineer Nick Antonelli and Barrett visited students at the University of Hartford where eight student projects were presented as part of the MET2 program.
Read full article here