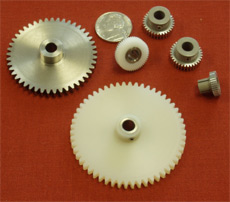 Spur gears are manufactured in several styles and materials, including 303 Stainless Steel, 2024-T4-Alumnium anodized before cutting, and nonmetallic materials with a twenty degree pressure angle and varying sizes of pitch, face and bore. Nordex offers hubless, pin hub, or split hub spur gears in precision quality Q10, Q12, Q14.
With a pitch range of 1/10 to 120. Additionally Nordex offers an extensive range in sizes to choose from. Custom gears will be manufactured. Nordex also manufactures Anti backlash Gears, Cluster Hub Gears, Helical Gears, Internal Gears and Miter and Bevel Gears.
View Our Catalog
Click here to view our PDF document for details.
Spur Gears

Use the pitch of the Spur Gear to link directly to Nordex' e-commerce website and purchase from the items listed.

Pitch

Pin Hub

Split Hub

Hubless

Nonmetallic

1/10 Circular
4L
–
–
–
20
5 – 8L
–
–
–
24
9
– 11L
47
– 48L
69 – 71L
152L, 158L, 161L
32
12- 15L
49 – 51L
72 – 74L
153L, 158L, 162L
48
16 – 21L
52
– 56L
75 – 76L
154L, 159L, 163L
64
22 – 28L
57 – 60L
77 – 78L
155L, 159L, 164L
72
29 – 36L

61 – 64L
79
– 80L
156L, 160L, 165L
80
37 – 38L
65 – 67L
81L
–
96

39 – 43L
68L
82
– 85L
157L, 160L, 166L
120
44 – 46L
–
86 – 89L
–